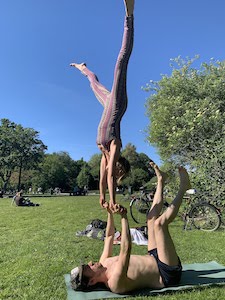 "Op De Kop" (Upside Down) is a the acrobatics association in Utrecht founded by 8 acrobats. There are classes weekly. The lessons will be taught by experienced acrobatics trainers.
The classes are for everyone 16 years or over. You do NOT need experience with acrobatics, nor do you need to be strong or flexible. Taking classes will result in strength and flexibility.
If you are interested in classes, please let us know by filling out the form .
September - December 2022 courses
After the summer break classes resume in september.
Wednesday
First class: 7 september Last class: 21 december
16 classes total
19:00 - 20:00 Handstandtraining
20:00 - 21:30 Acrobatics class
21:30 - 22:30 Open training
Location: Amsterdamsestraatweg 3
Vrijdag
9:00 - 10:00 Handstandtraining
Location: To be announced
Costs
Acrobatics class full course: € 176
Handstandtraining Wednesday full course:: € 120
Handstandtraining Friday full course:: € 120
Handstandtraining single class: € 10
More information about the handstand trainings ca be found here
Holders of the Upas and students get a 25% discount.
May - July 2022 course
From May through July there's a course of 9 lessons. First lesson: May 11th, last lesson: July 6th.
Class: 20:00 - 21:30
Open training: 21.30 - 22:30
During the lessons, the group is split into two skill levels. This way all participant can train on their own level.
Costs: € 99, holders of the Upas and students get a 25% discount.
Class presentation
Because acrobatics is not only a great joy to practice. Its also joyfull to watch. That is why we would like to show our skills in a presentation
On Thursday, june 30th we have a show. The participants make a presentation with a series of short acts.
The location will be announced soon.
Location
Amsterdamsestraatweg 3 Utrecht